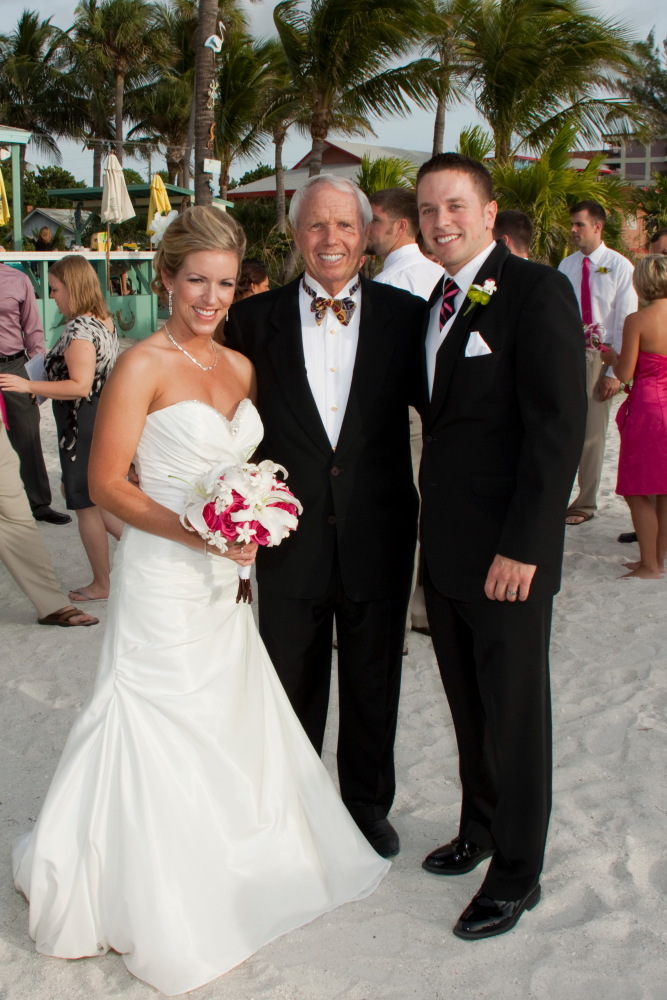 Pastor Jack will officiate your wedding, help you choose either the Romance or the Romance Traditional Ceremony and add the words from your heart that will make the ceremony unique to you and your loved one... let me help you make a lifetime memory that will forever, warm your heart and the hearts of your, family and friends.
Greeting
(Please rise for the bride)
Welcome to this wonderful setting (beach villa description) to celebrate the love and union of ------ Bride and --------Groom. We will all participate in the love and fellowship that will forever be part of this marriage.
Ceremonies:
Romance Traditional Ceremony
Greeting
This is the day the Lord has made,
let us rejoice and be glad in it.
For God is love, and those who abide in love,
abide in God, and God abides in them.
You will be able to insert your own words of love from your heart to the heart of your loved one.
You will be able to include ceremonies choices, such as the Hands Ceremony, the Wine box Ceremony and Rose Ceremonies which honor either your mothers or your marriage partner.
Wine Box Ceremony (Brandy, Port or other wines that age well)
Pastor: Bride__ and Groom __, I have asked you as a couple, to find a strong wooden box that will hold a bottle of wine…………..
……………I am asking that before you make any irrational decisions, that you both, as a couple, open the box, …………..read the letters that you wrote one another when you were united as a couple. By reading these love letters together, you will reflect upon the reasons that you first fell in love with each other. The hope is that there will never be a reason to open this box, until the eve of your 25th anniversary when you can together look back upon this day and rejoice in your continued love and commitment to one another.
____________ and ______________, you have just committed to share the rest of your lives with each other. ……………………..
…………………….
…………… Just as these grains of sand can never be separated and poured again into the individual vases, so will your marriage be.
* Sand is poured
Hands Ceremony "Blessing of the Hands"
____________ & ___________________, please face each other and take each other's hands, so that you may see the gift that they are to you.
……….. These are the hands that will passionately love you and cherish you through the years, and with the slightest touch will comfort you like no other.

These are the hands that will tenderly hold your children.
These are the hands that will lift your chin and brush your cheek as they raise your face to look into eyes that are filled with overwhelming love for you.
…………….
And lastly, these are the hands that even when wrinkled and aged will still be reaching for yours, still giving you the same unspoken tenderness with just a touch.
Sea Shell Toss (Sometimes it's stones)
Will everyone please join the Bride & Groom
by the waters edge?

Each of the shells you carry has a different word engraved on it.

Some of these words are ones you expect,
such as Romance, Love & Passion.

I ask that you now toss your shells/stones into the Ocean.
May Bride and Groom's love for each other be endless, unchanging and dependable as the tide.
Rose Ceremony (Honor Moms)
The first and my favorite place is at the very opening of the ceremony while everyone is stilling standing---with these words:
"We open this ceremony with a symbolic gift of beauty and gratitude to the women who gave the bride and groom life---their mothers."
Rose Ceremony (Between bride and groom)
For your first gift as husband and wife,
that gift will be a single rose.
I would ask that where ever you make your home in the future –
whether it be a large and elegant home –
or a small and graceful one - that you both pick one very special location for roses; so that on each anniversary of this truly wonderful occasion you both may take a rose to that spot both as a recommitment to your marriage - and a re-commitment that this will be a marriage based upon love.
Today as family and friends we have gathered to grant this couple all our best wishes.
I ask you now to follow the lead of _________ & ___________ and set your butterflies free in the trust all these wishes will be granted.
Unity Candle: (Doesn't work well in any wind)
Ceremonies Including Children
Options to Include Children in the Wedding Ceremony
Option 1.
Sand Ceremony (Kids & Family)
Option 2
Medallion (Necklace/Bracelet/Pin) Presentation:
……………..
In placing this medallion, we pledge to you _____________ (child) our continuing love, even as we surround you now with our arms of support and protection.
Option 3.
Words by Officiate:
Often marriage is viewed as the coming together of only two persons.
In reality, however, marriage is much broader. As we give thanks for the love that brings _____________ & ____________together, so, too, we recognize the merging of families taking place today

We pledge to you, _____________ (Child) our continuing love, even as we surround you now, with our arms of support and protection.

I ___________, choose you, _____________, to be my daughter/son.
I promise to make our home a haven,
where trust, love, and laughter are abundant.
I make these promises lovingly,
and vow to honor them all the days of my life.
Some Reading Selections:
Love
Love is a friendship that has caught fire.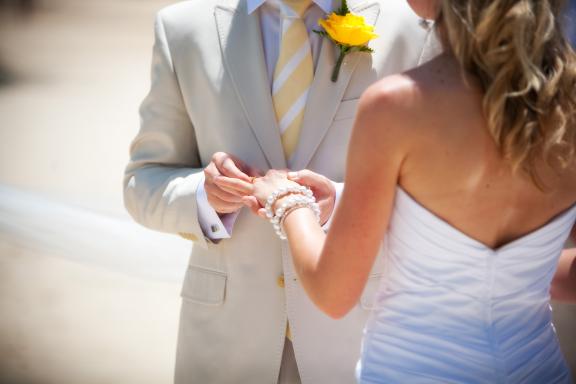 Reading: The Art of Marriage
A good marriage must be created.
In the art of marriage the little things are big things....
It is never being too old to hold hands. ……………
Reading: I Love You This Much
I love you this much.
enough to do anything for you—
give my life, my love, my heart,
and my soul to you and for you.......
Reading: 1 Corinthians 13
Love is patient; love is kind;
Institution of Marriage
The institution of marriage was begun
That a man and a woman
Might learn how to love
And, in loving, know joy;
Native American Reading
"Now you will feel no rain,
for each of you will be shelter for the other.
May beauty surround you both in the journey ahead and through all the years.
May happiness be your companion and your days together be good and long upon the earth.
Love as a Challenge - by Rainer Rilke
Love is a high inducement for the individual to ripen, to become something in ourselves, to become world in ourselves for the sake of another person.

MARRIAGE JOINS TWO PEOPLE IN THE CIRCLE OF ITS LOVE - By Edmund O'Neill
Marriage is a promise, a potential made in the hearts of two people who love each other and takes a lifetime to fulfill.
A poem from Sonnets of the Portuguese
by Elizabeth Barrett Browning
How do I love thee? Let me count the ways.
I shall but love thee better after death.
Contact Pastor Jack for more information and text so that you may begin composing a unique ceremony from your heart here in Sayulita, Mexico.