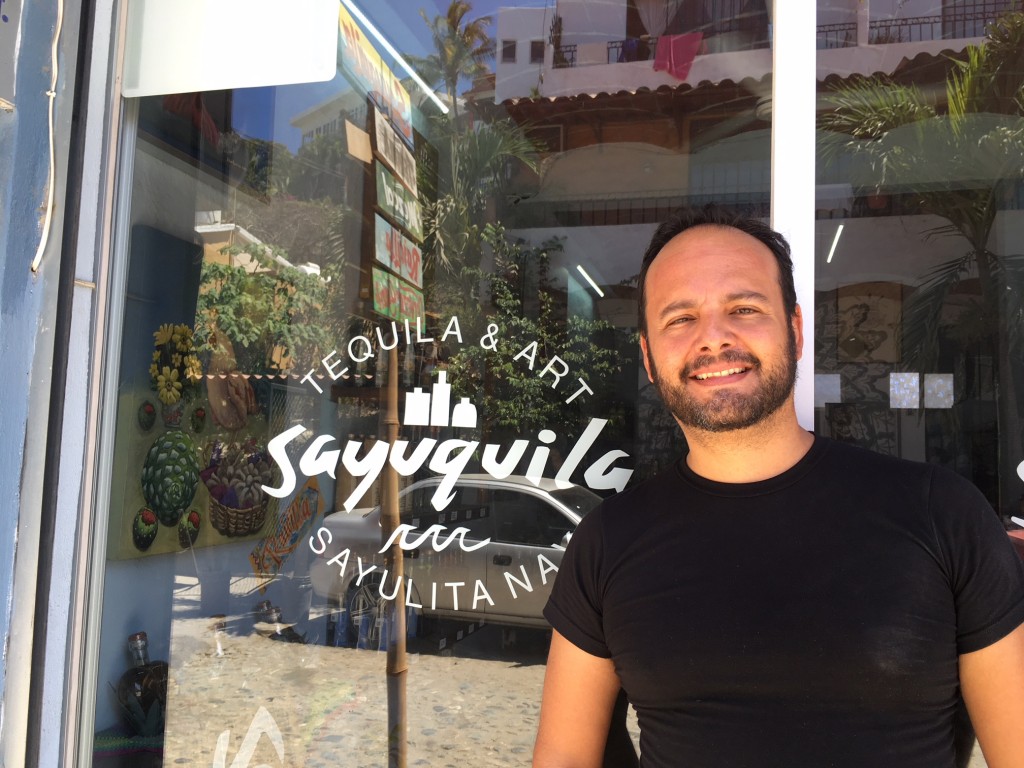 Sayuquila Tequila & Art is one of the newest liquor shops to open up in Sayulita. However, this particular store is more than just a place to buy your favorite tequila, Sayuquila Tequila & Art is unique in the fact that it is more of a concept store than just a liquor store. The owner Jose Luis tells me about his store, why he opened it, and how it is special.
Jose Luis—where are you originally from? When did you come to Sayulita and what brought you here?
I was born in Mexico City, but when I was seven years old I moved to Guadalajara and lived there all my life. I just arrived to Sayulita last September of this year, and I came to start this wonderful concept of my store. I love everything in Sayulita—the people, the town, the beach, the weather, everything!
 When and why did you decide to open Sayuquila Tequila & Art? What do you love the most about it?
I just opened Sayuquila Tequila & Art two months ago, but I have had the idea for my store for the past two years while I was working in a Tequila Boutique in Cabo San Lucas. I love working with the concept of a store that promotes the products to be specifically derived from Agave. Also, I love to teach others about the beautiful products we have in the store. 
 How is Sayuquila Tequila & Art different from other liquor stores in Sayulita?
Sayuquila Tequila & Art is dedicated to promoting a wide variety of specialty products that are derivatives from the Agave Plant, which is so important and relevant to our culture. We specialize in Tequila, Mezcal, Raicilla, Sotol, Bacanora, Liquors of Agave, Creams of Agave, and a very good exclusive new product: Agave Beer. This with the combination with selling art in our store, we have something unique and special at Sayuquila Tequila & Art We pay attention to our clients, and ensure an excellent quality of artisanal products here in Sayulita.
 What kind of art do you have in your shop, and how do you choose what to sell at Sayuquila Tequila & Art?
When I first started I only had paintings from an artist from Guadalajara, named Jose Luis Ramirez Casillas. I chose him because he has a beautiful way of painting traditional Mexican culture. Most all of his paintings are of skeletons, which are an important symbol to our culture here in Sayulita. I recently just added another artist from Puerto Vallarta, a painter named Kika GR; she has a unique style as well and most of her paintings depict scenes of the beach, which is our lifestyle here in Sayulita.
Besides selling your specialty products at great prices, what else do you offer customers at your store? Do you do any private tastings or special events?
I offer private tastings in the store in order to promote the products and spread knowledge of the beautiful story behind Agave. Additionally, we can supply our products to weddings or other private parties or events in town.
What are your business hours, and where can customers find more information?
We are open  11 am- 2 pm, and then again from 4 pm - 10 pm all days except Tuesdays. We are located on Calle Jose Mariscal, across the street from the Lollipop Toy Shop and next to Yambak. 
Written by Aanya Sheikh-Taheri