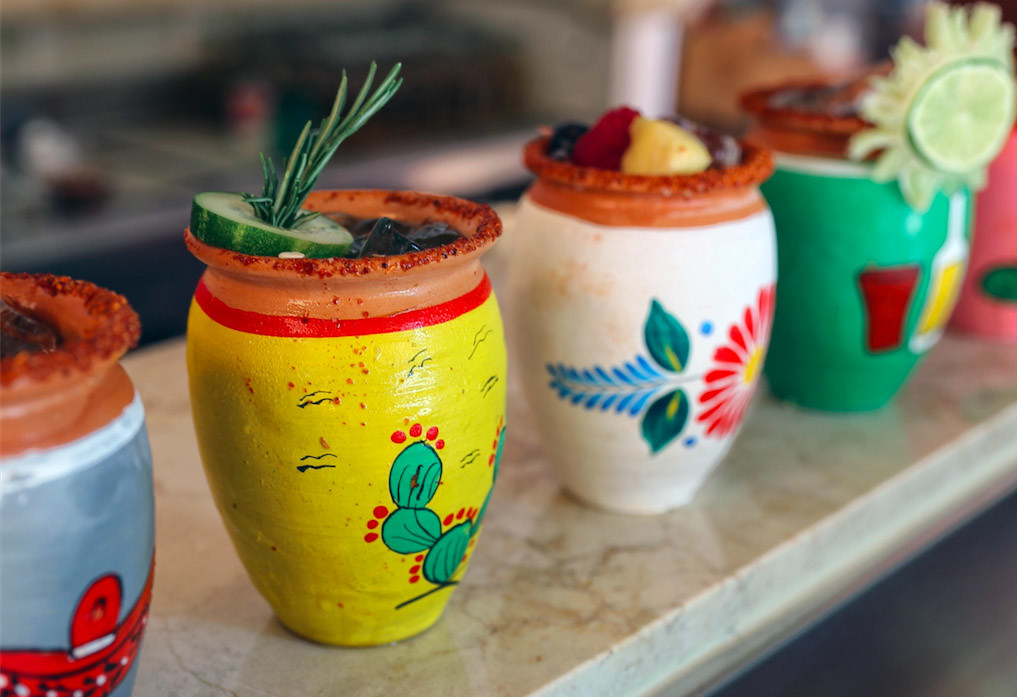 When you arrive at Xymena'z restaurant, you're overcome with excitement, as if you've discovered a hidden gem or a beautiful secret that nobody else knows about. Xymena'z restaurant sits pool-side at the new El Pueblito Hotel, and it is simply breathtaking and delicious. Xymena'z at El Pueblito Hotel is fairly new to Sayulita; they first opened on November 11 th of 2017 and have been flourishing ever since. The view of the pool while dining, the specialty drink menu, the variety of food options, daily happy hour, and the fact that they are open every day for breakfast through dinner, all have made Xymena'z a great success.
I go to Xymena'z on a Saturday afternoon, and I am surprised at how quiet and peaceful it is. To get to the restaurant, you walk through the main entrance passing by the pool. As you do, the décor immediately stands out and invites you in with its warmth and tropical feel. The design has a traditional Mexican sense with a twist on some modern accents. The hotel is bright and colorful, painted in tones of blue, burnt orange, and light yellow. Walls of green plants in classic clay pots adorn two sides of the hotel, creating a mood of lushness, as if you are in the middle of a Mexican jungle. The pool looks like a jewel due to the blue and white tiles which accent and illuminate the crystal clear water. The balconies which extend from the hotel rooms are adorned with Mexican tiles and vibrant plants, which create a romantic and serene ambiance.
At Xymena'z, you feel as if you have arrived to a luxurious paradise. I sit down at a table and chair that are clearly the product of impeccable craftsmanship, carved from wood with the grains still visible. The staff is incredibly friendly and professional as they deliver the menus. Not only is Xymena'z open every day for breakfast, lunch, and dinner, they also have daily happy hour from 1:00-3:00 p.m. which
includes specials such as two for one specialty craft cocktails. Kevin Zarazua, the hotel manager, talks about his vision for the restaurant and hotel, the concept in creating it, and what makes Xymena'z special.
The vision or concept for Xymena'z restaurant and El Pueblito Hotel was….
"We created a different concept of hospitality which we call "Pueblito Resort";— it is based on Mexican traditions and the Sayulita life style, combined with a boutique hotel that has reasonable prices. Our goal is to make every customer live the Mexican experience. We are a 100% Mexican hotel, committed to the environment and the enchanting town of Sayulita. We praise Mexican customs and traditions from the heart of this beautiful magical town. We feature a cutting-edge concept of a small-town hotel, 'hotel pueblito', which has a warm, kind, and personalized service."
What you specialize in at Xymena'z restaurant is…
"We specialize in mixology and Mexican food— for breakfast you should try the Poblano Omelette and Sayulita Chilaquiles. For lunch, try the Crab Enchiladas and Chile stuffed with Cochinita Pibil. Also, don't forget to ask about the catch of the day!"
I order the "Regional" cocktail from the impressive mixologist menu— a lovely and refreshing beverage made with tequila, guayaba, pineapple juice, grapefruit juice, lime juice, and a touch of mint. Carlos, the mixologist, serves it to my table in a characteristic clay style mug, painted with archetypal Mexican images of cacti and jungle animals.
The lunch/dinner menu has a range of items such as guacamole, ceviche, shrimp, nachos, sandwiches, and hamburgers. There is something to please everyone. I order the guacamole and chips for a light afternoon snack. When it arrives I am very pleasantly surprised at both the presentation, and the fact that it is a generous portion. I have had a lot of guacamole in Mexico, but this is by far one of my favorites. The addition of sliced tomatoes and cotija cheese give it an extra flavor that is very tasty. In addition to a beautiful ambiance, great food, and unique drinks, Xymena'z also offers patrons the use of the hotel pool. With the purchase of food or drinks, guests can take advantage and cool down during or after their meal for a few hours. Another option Xymena'z offers is an all-inclusive day pass; for just $300 pesos you can have access to the pool for the whole day, as well one breakfast meal, one lunch meal, and one beverage.
You would describe Xymena'z restaurant as….
"Xymena'z is the name of our contemporary Mexican restaurant, which combines the roots of Mexican cuisine with avant-garde gastronomical tendencies. Thanks to our chef's experience, you can delight yourself with extraordinary and delectable dishes worthy of a 5-star hotel. Be tempted by the flavors in our menu and experience a unique culinary experience in Sayulita."
When customers experience Xymena'z, you want them to feel…
"We want to make them feel like they've lived the Mexican experience."
When I leave Xymena'z, I am full, happy, and feel at peace. During my stay, I felt swept away into another place and time, as if I was in an old-world Mexico; thanks to Xymena'z restaurant, I did in fact for a moment get live the "Mexican experience".
Written by Aanya Sheik-Taheri
Photos by: Dorsett Photography