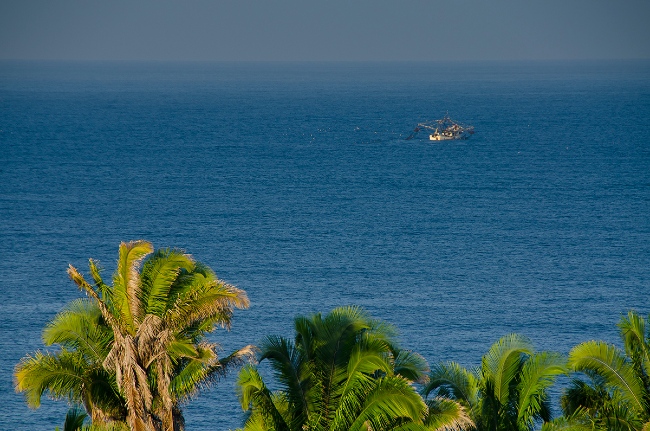 To everything, turn, turn, turn… There is a season, turn, turn, turn… And a time to every purpose… Under heaven. Our brisk morning air has me singing the lyrics of Pete Seeger. It's often joked that we have only two seasons in Sayulita, wet and dry, but if you look beyond the weather you'll discover some pretty significant seasonal differences that affect our lives in more indirect ways, including what we eat.
The winter months arrive with great anticipation, they mark the beginning of our usually busy tourist season and the arrival of the Humpback whales, and they also mean that shrimp fishing season has begun. Big, fresh, plentiful shrimp caught directly off our shores.
The easily recognizable shrimp boats can often be seen anchored offshore of Playa Patzcuaro during the day, their nets hanging from long booms extended outward over the water like a pelican's wings. When the sun goes down the shrimp boats come alive just like the shrimp they hope to catch. The boats' lights rise and fall with the swells while the hum of their engines can be heard from afar as they trawl slowly along the coast.
Today's recipe is easy, fresh shrimp and garden vegetables, because sometimes the best dishes are the simplest. This lightly sautéed version of Veracruz Style Shrimp comes together quickly so you'll want to have your ingredients prepped and at hand when you start cooking.
Veracruz Style Shrimp
(Camarones a La Veracruzana)
1 tablespoon olive oil
¼ cup unsalted butter, if using salted butter you'll want to reduce the amount of salt called for.
2 bay leaves
2 teaspoons lemon or lime zest
2 Jalapeño peppers, seeds and veins removed, cut vertically into strips
1 white onion cut into 1 inch pieces
1 green bell pepper, seeds and veins removed, cut into 1 inch pieces
1 yellow bell pepper, seeds and veins removed, cut into 1 inch pieces
1 teaspoon sea salt, medium grind
2 pounds shrimp, peeled and deveined
2 large cloves garlic
2 cups cherry tomatoes, halved, or Roma tomatoes, seeded and cut into 1 inch pieces
½ cup green olives, sliced, or 2 tablespoons capers
½ cup loosely packed cilantro sprigs
2 tablespoons lemon or lime juice
Place a deep sided sauté pan over medium-low heat, add the oil and butter to the pan. When the butter has melted add the bay leaves, lemon zest and Jalapeño strips, cook for one minute stirring constantly to prevent the butter from burning. Add the onion and bell peppers, season with the salt and cook an additional 3 minutes stirring constantly. Add the shrimp and garlic to the pan, continue stirring, when the shrimp are mostly pink and have begun to curl, approximately two minutes, add the tomatoes, olives and cilantro, continue stirring until the shrimp are fully cooked and the tomatoes have softened and have begun to release their liquid. Remove from the heat. Stir in the citrus juice and serve immediately.Serves 6
In the next issue of El Sayulero: Mexican Sandwich Rolls (Telera)
If there is a dish you would love to see featured by Aunt Terri Cooks or if you have a story idea please contact admin@auntterricooks.com or visit Aunt Terri Cooks.
*Written by: Terri Arronge