1. REHABILITATION BODYWORK
Sprained ankles that don't quite want to go back to their normal flexibility; a very achy and stiff back because a wave crushed you more forcefully than usual; bruised ribs that almost immobilize your entire upper body and arms; very sore shoulders that start pulling at your neck ... these and similar conditions can be quickly improved with one or a few short sessions – 30 or 60 minutes – depending on severity and the amount of time that has passed since the injury happened. The sooner it gets worked on, the faster it will improve.
5 years of work experience as a Rolfer has enabled me to quickly assess the complexity of a given structural condition and to devise the necessary course of action. I have had amazing results over the past years that have often left my clients astonished that what they thought were permanent painful conditions improved within a couple of days!
Prices: see next section.
2. MASSAGE THERAPY
Researchers at the Cedars-Sinai Medical Center in Los Angeles were "very, very intrigued and very, very excited" to find out that a single session of massage caused biological changes. They recruited 53 healthy adults who were randomly assigned a 45-minute session of deep tissue massage or a lighter version. The volunteers experienced significant decreases in levels of the stress hormone cortisol in blood and saliva and decreases in levels of arginine vasopressin, a hormone that can lead to increases in cortisol. They also experienced increases in the number of lymphocytes, white blood cells that are part of the immune system.
The research was sponsored by the National Center for Complementary and Alternative Medicine. The New York Times published an article about these findings titled "Regimens: massage benefits are more than skin deep."
Conduct the test on yourself :-) and enjoy the benefits!
Modalities: Deep Tissue Massage
Relaxation (so-called Swedish) Massage
Reflexology (feet & lower legs)
Pregnancy Massage
Prices:
At my studio / Once in town you can always stop by at my studio and sign up for your appointment in my sign-up book 30 min. USD30, 60 min. USD60, 75 min. USD75, 90 min. USD85
Outcalls within Sayulita / Please email or call me a couple days in advance 60min. USD70, 90min. USD105
Outcalls to San Pancho, Punta Mita, Cruz de H. 60min. USD 80, 90min. USD120
3. STRUCTURAL INTEGRATION / ROLF BODYWORK
Excellent preventative body care which enhances the self-healing capacity of the body
Proven to be very helpful in treating a wide range of chronic conditions such as lower back pain, frozen shoulders, sciatic nerve problems, whiplash, restricted breathing, scoliosis, hip and knee problems, carpal tunnel syndrome and many others.
The human body, like all other material structures, submits to the basic laws of physics. When we are out of balance, gravity drags us down, just as it drags down a building that has lost its architectural integrity. As we move through life and are forced to compensate for injuries, physical or emotional traumas, work habits or daily activities, the connective tissue gets dehydrated. This makes the tissue less supportive and adaptable which causes strain in muscles, compression in joints and a disconnection in the communication required for any bodily movement. These changes in the connective tissue system are responsible for misalignment and imbalance of the entire structure. Now your muscles have to work very hard to compensate for the misalignment and they become overworked and fatigued. The onset of chronic pain is very likely to occur.
How does Rolfing work?
Through refined and intelligent pressure (no lotion or oil involved), the connective tissue is carefully manipulated to release areas where the body is restricted. The tissue becomes again hydrated and thus more pliable. The 10 sessions are administered progressively. Each session prepares the ground for the following one until complete integration and balance of the skeletal –connective tissue system is achieved. As a result, muscles relax and resume their proper function. Chronic pain disappears. Now a feeling of wellbeing and self-confidence can develop. Most likely, you will feel lighter, be more flexible and obtain a higher level of energy. Even old attitudes that were held and encouraged by stuck body patterns become easier to release.
A complete treatment consists of 10 sessions. It is possible, however, to book a single session in order to directly experience this type of bodywork before committing to the entire 10-session series. Another possibility is a miniseries of 3 sessions. If you then decide not to continue with the complete treatment, you will still have received the full benefits of the sessions taken.
One session lasts approx. 75 min. Price : 75 USD / 1,000 Mex.Pesos
4. MEDICAL BIOMAGNETISM
This technique can be very effective in cases where conventional medical treatments don't produce the desired results. Medical Biomagnetism is about finding the causes of illness beyond the mere diagnosis and medication of symptoms. The results are immediate. It is also strongly recommended as a preventative measure even before any symptoms show up. You most likely will notice an improved overall sense of wellbeing.
Irregular fields are located by manually scanning the body's more than 100 anatomical reference points with the aid of a magnet and by obtaining direct answers from the body through muscle testing. Putting pairs of magnets on these specific points for 15 minutes raises the vibrational frequency of the cells and re-establishes healthy, bio-chemically balanced pH levels, neurotransmitters, neuroregulators, hormones, and enzymes.
Developed over the past 30 years by Dr. Isaac Goiz, a Mexican MD, Medical Biomagnetism is a comprehensive alternative healing method based on the observation that illness is ultimately caused by microscopic, subclinical infections (without apparent symptoms) or by a noticeable infestation through pathogens. When magnets are used to neutralize their acidic or alkaline habitat, these pathogens cannot survive.
A session lasts approx. 60 minutes. Special introductory price : 40 USD / 500 Mex.Pesos
ABOUT ULRIKE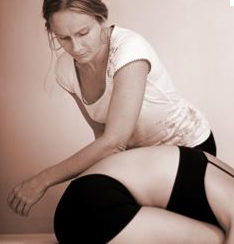 Ulrike (Riki), born in Germany and educated in Europe, chose Mexico as her home in 2001 after successfully pursuing her career within the fashion industry for more than 12 years while working and living in Russia, Poland and Italy. As a result of contemplating her life's path, she made the decision to fundamentally change her way of life. Mexico, with its much slower rhythm of life, its wide-open spaces, its natural beauty and its proximity to the Pacific Ocean, became the perfect setting for her transformation.
Realizing that she had 'The Touch,' Riki enthusiastically chose to follow this calling and to make it her new profession. In 2004, after graduating from a massage school in Puerto Vallarta and studying Reflexology, she started working as a freelance massage therapist. It was important for her not to work in a spa setting, where only routine massages are possible. Thus she was able to develop the skills needed to quickly assess the body and to apply a combination of techniques necessary for the situation at hand. This independence also gives her the opportunity to constantly learn new techniques and to immediately implement them in her work. Through this continuous "on the job" training, she has been able to significantly broaden the range of techniques she can offer.
Riki is very sensitive to the fact that every person has his or her own comfort range concerning the amount of pressure applied during bodywork. She actually considers it an art to have the awareness and sensitivity to do profound bodywork while recognizing and respecting every person's boundaries.
During 2006 and 2007 she studied at the Guild for Structural Integration in Boulder, Colorado, and became a licensed practitioner. Her study included a 500-hour course in Anatomy, Physiology and Kinesiology. Practicing Structural Integration has become the main focus of her work. She finds it a wonderful way to be of service to others while realizing herself.
Continuing education courses:
June 2009, 6-Day Intensive Cross Anatomy Lab at the Boston Medical School
Aug. 2009, 6-Day Workshop on Structural Integration at the Crestone Center for SI, CO
May 2010, 3-Day Workshop on Structural Integration through the Guild for SI, Vancouver, BC
Aug. 2010, 7-Day Workshop on Movement, Dance and Inner Body Awareness at "Die Windschnur," Germany
Oct. 2010, 6-Day Workshop on Structural Integration at the Crestone Center for SI, CO
June 2011, 3-Day Workshop on Structural Integration and the Egoscue Method in San Diego, CA
Sept. 2011, 3-Day Workshop on "The subtle quality of movement, breath and attention: Exploring the teachings of Vanda Scaravelli" by Christine Borg in Sayulita, Mexico
Jan. 2012, 7-Day Workshop on "Intuitive Yoga in the tradition of Vanda Scaravelli" by Diane Long in Sayulita, Mexic
Aug. 2012, 5-Day Course on Dr. Isaac Goiz's "Medical Biomagnetism Level 1" in Puebla, Mexico
Feb.2013, 7-Day Workshop on Shadow Yoga by Matt Presendian in Sayulita, Mexico