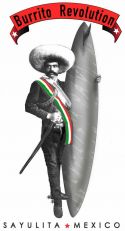 Burrito Revolution is now located on Calle Jose Mariscal, just around the corner from the Sayulita Church in the center of town.
Burrito Revolución in Sayulita Mexico is like none other in Mexico (and perhaps the world!) The incredibly delicious burritos are handmade from the freshest ingredients and served hot off the grill to waiting customers.

Because each burrito is prepared fresh for you, most likely, you will have to wait in line to get your custom burrito. But hey, the person in front and behind you, probably waited in line the day before and they are back for more. The tastes are simply out of this world.
"Revolution is what's for dinner tonight"

Sayulita's Burrito Revolución offers a variety of custom created menu items. Here is a sample of the fair we offer:


Our burritos are outstanding but our three sauces will blow you away. Patricia makes them fresh every morning and you are certain to find a favorite. Orange, green and red. They range from mild and fresh to delicious and spicy.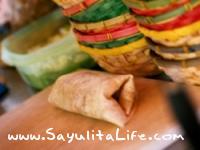 Burrito Revolución is truly on the "must-eat" list of Sayulita restaurants. Try one, and you will be back for more. Guaranteed!
Summer Hours: Tuesday - Sunday 12:00 PM - 8:00 PM Closed Mondays.
Visit both locations:
Now also open in Puerto Vallarta Basilio Badillo #156 Tel: 322-223-0438

We look forward to serving you one of our famous burritos soon!
Puerto Vallarta location is closed from August 15th through October 10th
Sayulita location will be closing August 22nd through October 10th