Sayulita Shopping: A savvy shopper's paradise
Author: Kimberley Keehn, Owner of Sayulita Sol Jewelry
Photos: Derrick Lundy & Others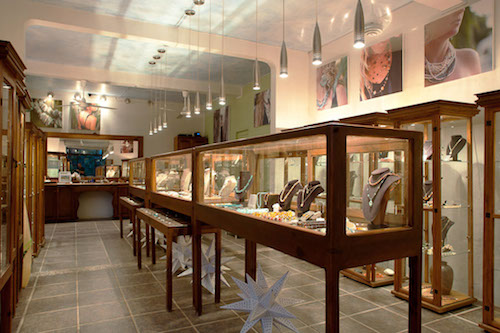 Over the past 10 years Sayulita's shopping scene has changed drastically. Sayulita Sol Jewelry, the first jewelry store, open its door ten years ago when Calle Delfin was still an unpaved dirt street. Today it is a palm-lined promenade hosting a plethora of shopping boutiques! Sayulita has become a beautiful, bustling downtown with an incredible selection of shopping opportunities. Where else can you find 45 locally-owned shops offering a diverse array of hand-selected merchandise within a four block radius? Often people ask us what is there to do in Sayulita? Shop!
What is the best part of Sayulita's shopping scene? We would have to say the diversity. There is a distinct style found in each Sayulita shop that can't be found anywhere else. Another great part of Sayulita shopping is the central location of all the boutiques. The majority of the stores are located within 4 blocks of each other, making Sayulita a great day-trip shopping destination. Vistors certainly do not need a car to shop in Sayulita, and most of the sidewalks are handicap accessible. One can visit almost all the best stores in a 2 hour shop-a-thon, with time for lunch and a margarita to spare.
Read a great article about shopping for Folk art in Sayulita
Here are answers to FAQ about shopping in Sayulita, Mexico:
Are there any jewelry stores in Sayulita?
There are at least five stores selling just jewelry. Most carry jewelry handmade by the owner. The jewelry designs are unique and inspired. Most shops in town carry some jewelry together with their other merchandise. If you like shopping for jewelry, Sayulita has a great jewelry selection.
Can I buy Mexican-inspired home décor in Sayulita?
There are several great home décor shops in town. The owners personally travel around Mexico to purchase their unique merchandise. There are all different styles of hand-painted pottery, ceramic sinks and tiles. Lots of handmade hammocks are available in many sizes, styles and weaves. You can purchase handwoven bedding and embroidered pillowcases in colorful Mexican prints. Often times the owners design their own Mexican-folklore inspired products, the kind of stuff you can't find anywhere else.
What kind of souvenirs can I shop for in Sayulita?
T-shirts sold in Sayulita are designed with creativity and passion for style. There are various stores stocked with small souvenirs for every budget. Many stores carry souvenirs they made themselves or designed locally. You can find all sorts of interesting gifts browsing the shelves of Sayulita's souvenir shops.
Are there surf shops in Sayulita?
Sayulita has many surf shops located in downtown. You can rent or buy boards, take a surf lesson, buy clothing, rash guards, flip flops, swimwear, and other surf gear. Surf shops are also a great resource for day trips to other surf breaks.
Are there any clothing stores in Sayulita?
There are many clothing stores to shop in. Clothing for women, men and children is available for sale. There is a wonderful selection of designer fashion for every style. You could come to Sayulita with an empty suitcase and shop for a whole new summer wardrobe! Silk sundresses, embroidered cotton blouses, hip beachwear, unique one-of-a-kind prints, and sexy crochet bikinis are just some examples of the fashion available in Sayulita.
Can I buy art in Sayulita?
There are several art galleries in town. You'll find indigenous Huichol yarn or bead paintings, paintings done by modern Mexican and international artists, sculpture, pottery, and more.
Does anyone sell leather goods in Sayulita?
We have some amazing leather smiths working with natural Mexican leather. High fashion handbags are designed and sewn in town. Leather woven bracelets, Mexican leather sandals, simple leather wallets and more can be found in Sayulita shops.
Is there a bank in Sayulita?
No. At this time there is no bank in Sayulita. All shops accept Mexican pesos and if asked will often offer a cash discount. US Dollars are commonly accepted at a competitive rate. Credit cards like Mastercard, Visa and American Express are also commonly accepted in town. People often say to me they left their wallet at home because they didn't realize how amazing Sayulita shopping is. Don't make the same mistake!
Are there any open air markets in Sayulita?
Sayulita hosts "El Mercado del Pueblo", a local farmer's market each Friday of the high season, November through April. If you happen to be in town on a Friday it is a great way to buy fresh local produce, flowers, locally prepared specialty foods, coffee, honey, hand-made body care products, chocolates, fresh baked bread, desserts etc. Also showcased are a group of select artisans who live in Sayulita and make their own handicrafts. There is often live music or entertainers at the market and it is a great place to have lunch.
Sayulita has matured a lot over the last few years. The new downtown Sayulita renovation created a shady, palm-lined, outdoor shopping experience. The level of design, fashion, and artistry found in Sayulita rivals what you could find in a hip city center. If you are new to the area or haven't been back to Sayulita in awhile we highly recommend coming back to visit. Whether you visit for a few hours or weeks it's worth the trip!
Here is a list of shopping boutiques in Sayulita:
Artefakto
Original and unique home decor items
Banannie Jewelry

Hand-made jewelry, precious and semi-precious stones, unique designs
Blue Bamboo
Home decor, souvenir items, beachwear fashions and handmade coconut light fixtures
Buddha Gallery
Decor, clothing, jewelry and items from Mexican to Indonesian
Exquisitely unique and different items, including apparel, accessories, souvenirs and other gift giving ideas.
Chino Bolper Silversmith
Carrying a variety of leather goods
Corazon d'hafa
Specializing in hearts of all shapes, sizes and styles for your home
Cori Jacobs Gallery
A jewel of a gallery respresenting the ever evolving vision of artist Cori Jacobs.
Debbie de la Cueva
Fine and delicate jewelry designed by Debbie de la Cueva
Diosa
Fine silk clothing from India and imported hand crafted jewelry
Espuma Do Mar
Hand-made items including purses, pillow cases, blankets and other textiles
Esto Es Mexico
Hand painted ceramics, art work, souvenirs and interesting pop art and Mexican folk art
Evoke
Handcafted beaded jewelry, home decor with Mexican flare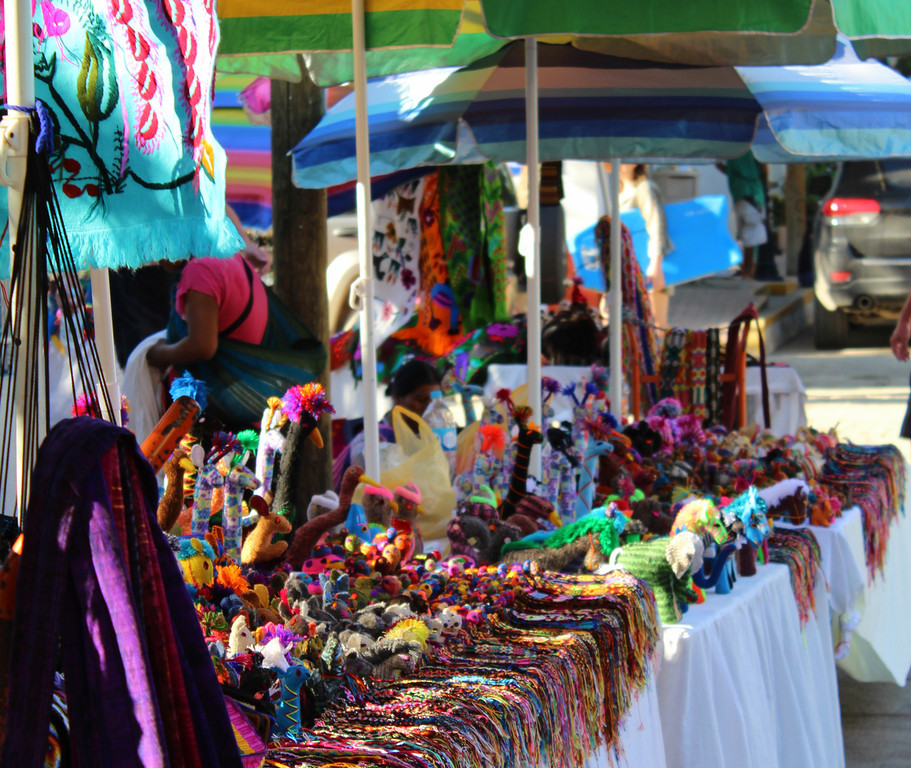 Artisanal organic Skin care products, which are "hand-prepared" on site.
Forever Sayulita
Modern fashions, beachwear and accessories for women
Gypsy Gallery
Items and products from around the country of Mexico
Handmade beaded jewelry from the Huichol tribe among other Huichol handicrafts
Jalu Gallery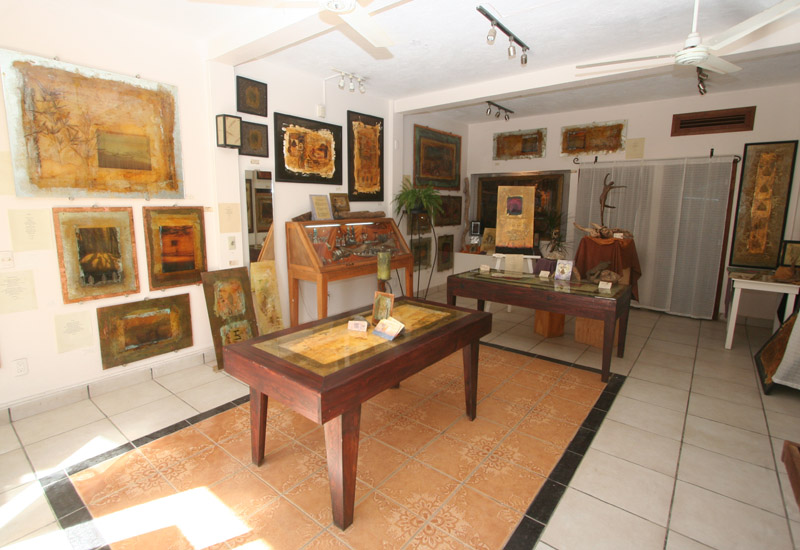 Janine's [aintings on glass have become windows, doors, table tops or simply framed pieces.
Kismar
Handmade jewelry, top quality gems, stones and custom designs
La Catrina
Mexican folk art, designs, jewelry and souvenirs
La Guanaba
Unique clothing boutique selling local designer pieces, tops, dresses and bikinis
La Hamaca
A unique selection of Fine Tradtional Mexican Folk Art and Textles in Sayulita
La Perla
Fine jewelry, silver pieces, gem stones and other accessories
Luna Azul
Surf attire and fashion for the beach. Surf board rentals and purchases available
Marsara
Mexican designer fashions, jewelry and accessories
Mexica Teahui
Handmade jewelry designs, quality feather earrings, unique Mexican inspired items
Mexican Surf Mafia
Surf fashion, bikinis, beach clothes, sandals and surf board rentals and sales
Nakawe
Selling micro macrame jewelry, leather bags and handicrafts
Oaxaca Shop
Mexican handicrafts, textilees and clothing from Oaxaca
Pacha Mama
Tahitian pears, leather purses, unique fashion designs.
Paez Sayulita
Argetinian brand of comfortable and trendy foot wear inspired by the typical "gaucho" shoe, or the "alpargata" and it has taken the foot wear market by storm
Pancho Vida
Unique t-shirt designs of all styles and sizes. Souvenir t-shirts for everyone in the family
Quiverito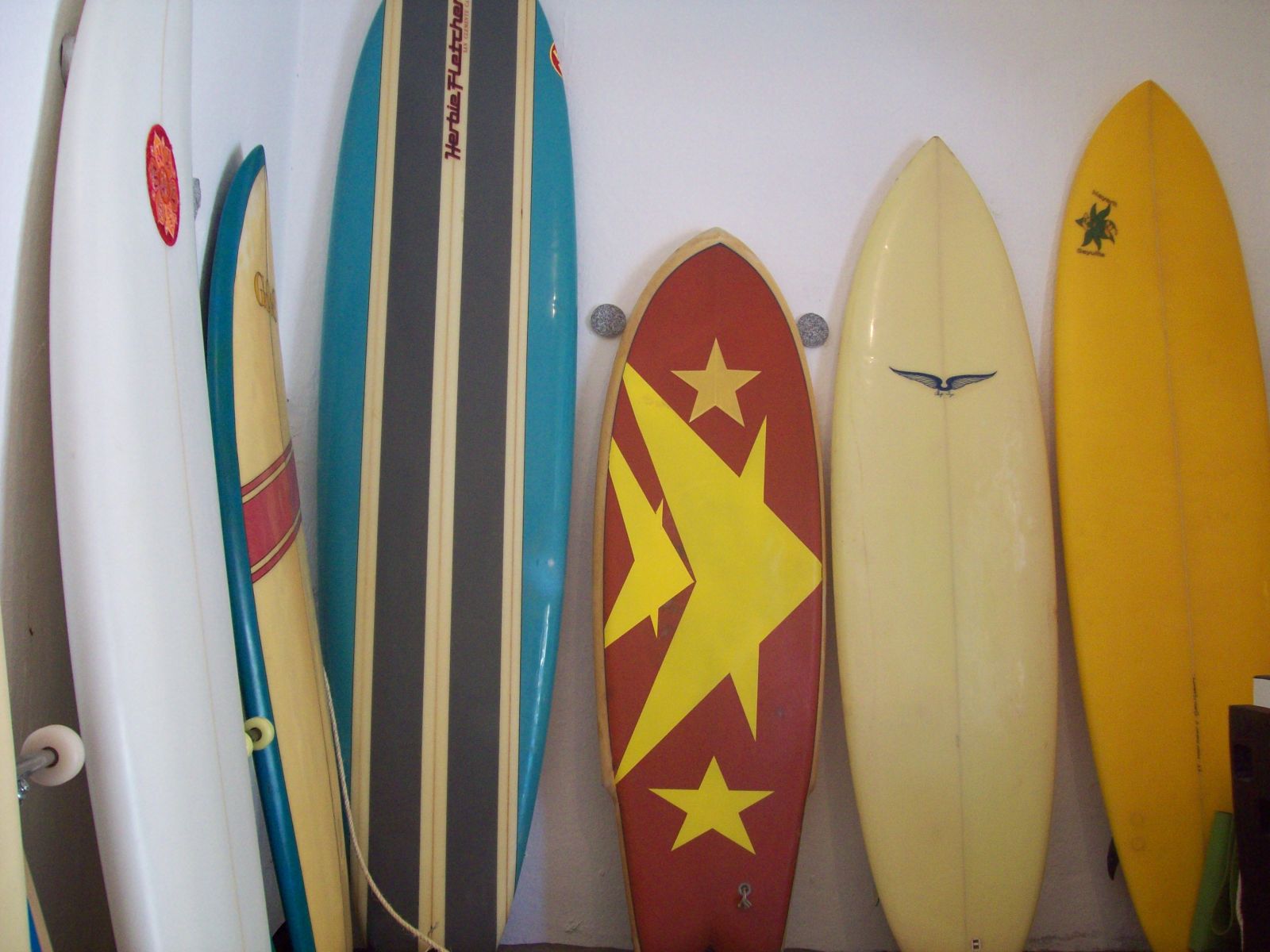 High-end and quality surf board rentals and sales
Revolucion del Sueno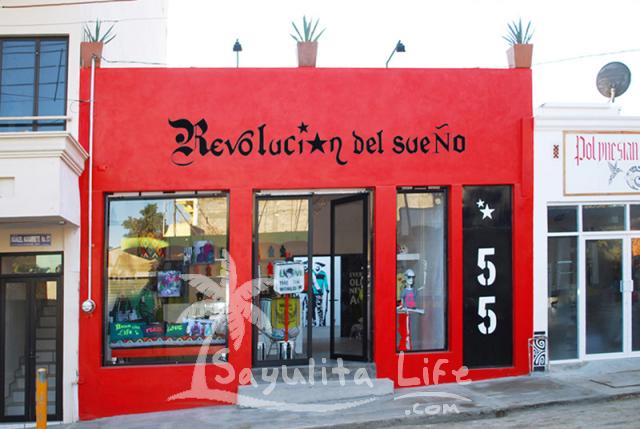 Fashion boutique offering original t-shirt designs in limited editions and quality fabrics, home decor items and jewelry also available
Rooster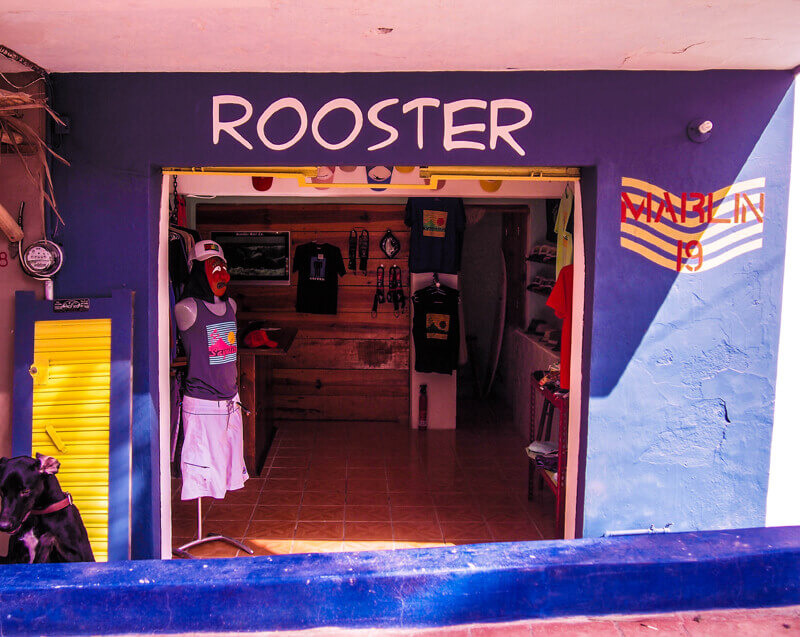 Offering brands and custom Sayulita design t-shirts, tanks and other fashions for both men and women

Rosemary
Women's fashion boutique where you can find a variety of dresses, leggings, tops and accessories
Sayulita Sol Jewelry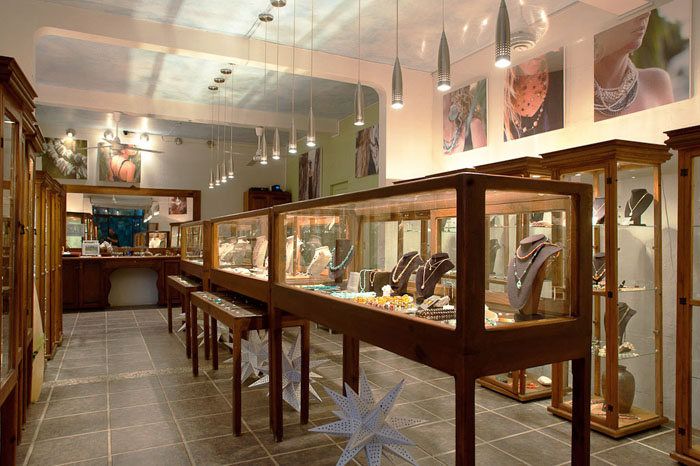 Great selection of handmade gemstone jewelry made from natural gemstones, 14kt goldfill and sterling silver. Serving Sayulita since 2004
Scarlett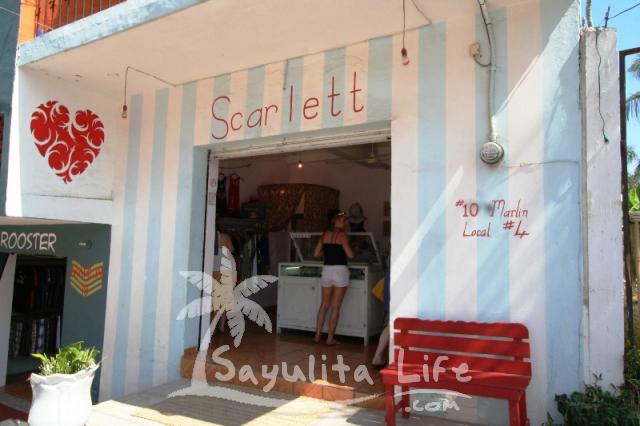 Fashionable beachwear, original designs, bikinis, purses, women's fashions and jewelry
Shazel
Exclusive hand made embroidery design, leather goods and Jewelry
Sininen
Lunazul's sister store also offering beach fashions, bikinis, board shorts, surf board rentals and sales
Soy An
A one-stop shop for all your souvenir items. Beaded jewerly, purses, gift cards and much more
Surf N Roll
Surf board rentals and sales, surf attire for adults and children, bikinis and Sayulita souvenir fashions
Surfing Sayulita
Sayulita souvenirs, folk are and ceramics
Synaia
An array of .925 sterling silver jewelry pieces as well as unique jewelry designs by combining sterling silver and 22 karate gold.
Talavera
Talavera ceramics, dishes, Mexican sinks and tiles
Tukari
Huichol inspired art works, jewelry and decor items
Ula
Locally designed bikinis, fashions, purses and much more