Chef Daniel Murillo of Mexotik private chef services in Sayulita will cook and create unique and flavorful dishes right in your Sayulita rental home. Daniel's culinary experience and love for food has him creating new entrees while offering a twist on traditional Mexican and International cuisine.
Mexotik's goal is to give you a memorable dinning experience, using organic local products and a wide variety of international spices to create dishes full of freshness and exotic flavors. Choose from the menu below or advise about any allergies or special requests. Chef Daniel is more than happy to create something different, unique or simply traditional. Turn your Sayulita rental home into a comfortable private restaurant boasting delicious food and great service.

Appetizers:
Spring rolls stuffed with seven vegetables & sauteed with oriental spices or ground beef with yellow curry and vegetables.
Chicken skewers marinated in yellow curry and citrus soy served with peanut sauce.
Mahi Mahi ceviche w/ mixed bell peppers , jicama , purple onion & cilantro all marinated in japaneses spices served over avocado segments topped with alfalfa sprouts.
Tofu carpaccio melon pearls, tomato and cucumbers in a mostard, honey and agave dressing.
Platain crackers "tostones" with smoked marlin mousse with chipotle pepper and guacamole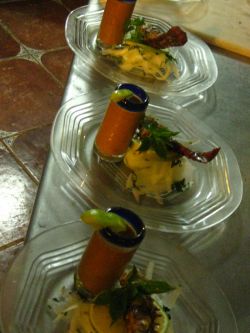 Soups:
"Green Gazpacho" chilled avocado & mixed greens soup blended with find herbs.
Japanese Miso soup with cucumber tagliatelli, julienne vegetables, nori "seaweed" with a hint of smoked chipotle pepper
Thai coconut soup with shrimp, fish & julienne veggies cooked with lemon grass & a hint of green curry
Dahl Lentil soup with confetti vegetables cooked with Garam masala & Madras curry
Vietnamese soup. Pho Beef broth gently cooked with oriental spices served with Bon Pho noodles , fresh mushrooms & soy sprouts garnished with fresh herbs , basil , mint & coriander
Seafood Medley , mixed seafood ( scallops ,shrimps , octopus , clams & dicd fish ) sauttéd with smoked bacon and glazed onions then simmer in coconut milk with lime leaves.
Mixed mushroom soup (baby mushrooms, portabella, oyster mushroom and huitlacoche) gently cooked in chicken broth and lemon grass infusion.
shrimp broth cooked with mixed smoked peppers and tomatoe, potatoe, chayote, pumpkin blossoms and shrimp served with chochoyotes (mexican corn dumplings) and acuyo leaves.
Salads:
Calamaris sautéed in soy sauce & Wasabi butter served over island of sprouts & fresh spinach with avocado slices & cantaloupe pearls
Organic Arugula salad with goat cheese croquettes with glazed nuts, apple and pear segments tossed in raspberry vinaigrette
Spinach Salad with pecans , panela cheese , fresh mushrooms & purple onion rings tossed in mustard and agave hony vinaigrette.
Thai beef salad with sweet chili & roasted garlic dressing served over organic mixed lettuc , cucumbr noodles, jicama strips & chaives topped with shreded coconut & basil.
Cactus salad with tomatoes, purple onion, jicama and cilantro marinated in roasted sesame dressing with goat cheese and epazote.
Main Dishes:
Fish filet "Catch of the day" in Pumpkin seeds & green tomatoes sauce "PIPIAN" with mashed potatoes duo &steamed broccoli & chayote strips
Fish filet "Catch of the day" in annatto sauce with grilled vegetables, Yellow rice, diced fried plantain, & roasted sesame seeds
Thai noodles with shrimp, alfalfa sprouts, dried chili flakes, chives, coriander, tamarind & peanuts
Green curry with chicken &confetti veggies served with coconut rice
Homemade gnocchi's in chunky tomatoes sauce with parmesan cheese and fresh sweet basil
Barley Risotto with baby scallops and shrimp in Poblano pepper creamy sauce
Veggie casserole with organic tofu cooked in coconut milk, yellow curry with Garam Masala
Grilled Lobster ( SEASONAL ) in tequila butter served over beer batter vegetables and fresh aurugula.
Octopus in orange reduction with hibiscus & chipotle served with grilled veggies & coconut rice.
Seared Tuna Steak (SEASONAL) with cinnamon crust served on island of julienne vegetables , spinach & cucumber noodles cooked in sweet ginger , lime & chilli flakes.
Beef Medallion in smoked pepper sauce ( Pasilla / Morita ) served with sautted spinach w/ roasted garlic and parmesan crust over chick peas polenta.
Enchiladas ¨MEXOTIK STYLE¨ our special brew of pre-hispanic spices & dark chocolate served with hand made tortillas, stuffed with grilled chicken & crispy platain garnished with sour cream , ranchero cheese , onion rings and almond flakes.
Green Enchiladas w/ roasted tomatillo & Xcatik pepper stuffed with shrimps garnished with sour cream , panela cheese, purple onion rings and cilantro.
fish fillet stuffed with seafood mixed sautted with fine herbs, wrapped in smoked bacon, covered with chardonnay and capsicum creamy sauce.
Desserts:
Mango lasagna with mixed wild berries coullie
Avocado & Chocolate Mousse
Goat´s milk caramel custard
Thai Golden Temple, mixed fruits ( banana, mango, pineapple ) cooked in sweet ginger syrup served over layers of crispy wonton garnished with coconut & mint.
Crepes with organic Vanilla infusion filled with mango sorbet or Yak fruit sorbet (SEASONAL)


Whether you're celebrating a special occasion or you just want to relax, Mexotik can make your home your Restaurant.