"Making some of the tastiest fish tacos in Mexico" -The Lonely Planet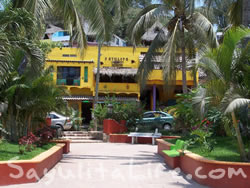 NEW! SFT Tequila Bar is Sayulita's first World Class Tequila Bar and is attached, alongside the Sayulita Fish Taco Restaurant. The bar currently offers over 250 individual bottles of tequila.
Commonly known as the best fish tacos on the Pacific Coast. Sayulita Fish Taco in Sayulita is a must stop during your Sayulita vacation. And trust us, once you have been once, you will return again and again, and again…
The Baja style fish tacos are the staple of this restaurant and certainly a treat whether you join us for lunch or dinner. Once you have tasted the tacos, make sure not to miss the rest of the specialty menu filled with fresh seafood, and even a few meat dishes.
A large favorite is the shrimp taco, which can be served either Baja style, or with Sayulita fish tacos special pineapple and garlic sauce. Try one of each, but do not stop there, don't miss the fish and shrimp burritos, of course in Baja style or pineapple and garlic.
For those that have built up a huge appetite out in the water, the shoebox burrito will suit you perfectly.
Sayulita Fish taco offers many other fresh seafood menu items, as well as nightly specials, depending on what the fisherman bring in. If you are lucky, you will chance upon Sayulita Fish Taco after Dora has prepared her famous Chile Rellenos.
It is not just the food that brings the crowds to Sayulita Fish taco, the owners Dora and Son, add to the special charm found at Sayulita Fish taco. Pull up a stool and get to know them both, there may not be 2 people that know Sayulita better, nor that have a friendlier attitude.
You will almost always find the bar crew interacting with the clientela, and they will always be laughing. The dining area can easily accommodate an intimate dinner for 2, or a large group. We also offer a full bar to accompany your dining experience.
Whether enjoying the Sayulita street level dining or a dinner up above with the view, there is no doubt you will enjoy the fresh flavors of Sayulita Fish Taco.
"Making the best fish taco ANYWHERE" -Larry Stanton , Author: Arriba! Baja