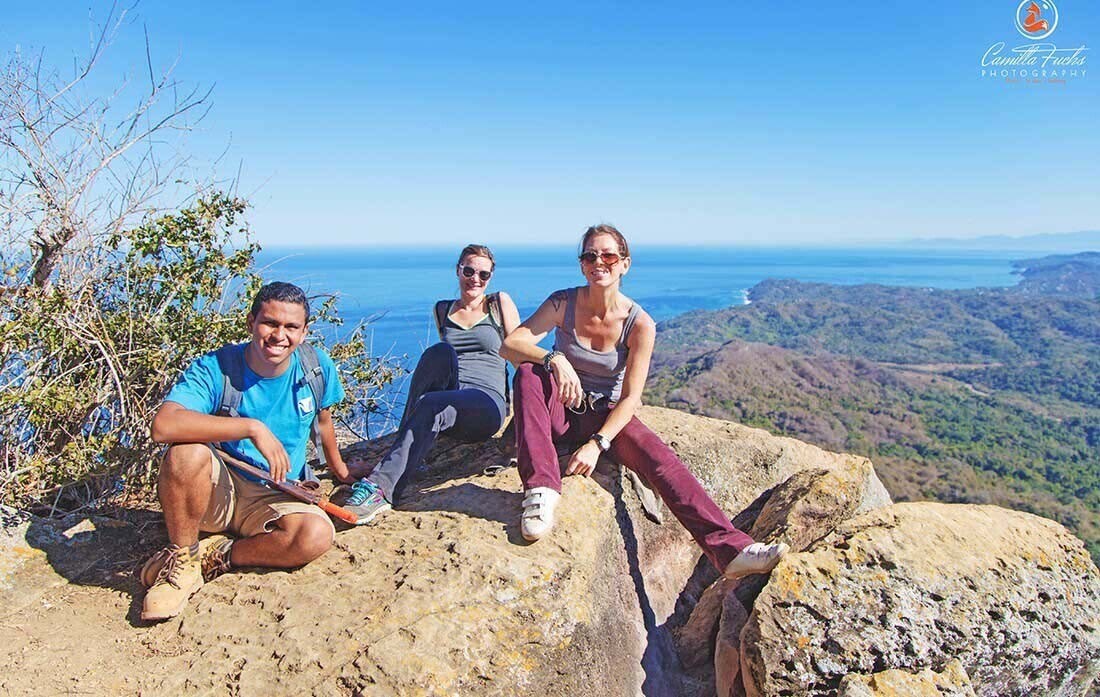 Saturday morning just after 8am, the sun cutting the cool morning air, my friend and I stood at the bottom of Monkey Mountain with our guide, Fabian. As we walked, the only sounds that could be heard were the dead leaves crunching under our feet, birds chirping, and roosters crowing. Having never hiked the Jaguar Trail, a trail known to see jaguars, I was excited to do it with Active Hiking with Versa Premium in Sayulita.
Fabian, who speaks very good English, explained to us that Jaguar Trail was developed in 2010 and is a protected area for the jaguars. While the section of the trail that we were going to hike is on Monkey Mountain in Patzcuarito, just a few minutes from Sayulita, the trail also extends to Sayulita, San Pancho, and Lo de Marcos. (Active Hiking with Versa Premium is one of 14 private companies in the area that help to safely capture jaguars and relocate them to a safe location.)
As we hiked the dirt trail, strewn with rocks of various shapes and sizes, the sun was shining through the trees, highlighting the beauty of the jungle. Fabian pointed out a shameplant (verguenza de la planta), the leaves of which close when touched, a cotton tree, and the bark of the capomo tree, which is supposed to help stimulate lactation. He also pointed out a woodpecker on a tree and told us there are more than 75 species of birds in the area.
Around the halfway point, the trail becomes a bit steeper, although ropes are strategically placed to make going up and down easier. Again, as we nearly reached the top of Monkey Mountain, the trail changed, and Fabian pointed out volcanic rock. Climbing over rocks, I have to admit, I was a bit out of breath when we reached the top a few minutes later. However, it was completely worth it!
The view from the top of Monkey Mountain is absolutely breathtaking, showcasing the entire Bahia de Banderas. From waves crashing against the shore below to the lush covered jungle area to butterflies fluttering about, the 365-degree view and the peacefulness is something to behold.
I sat on a rock and opened the snack pack (2 waters, a Gatorade, 2 granola bars, and an orange) that was provided by Active Hiking with Versa Premium. The wind gently blowing the branches of the trees surrounding us, I kicked back and relaxed while taking in the view.
On the way back down, Fabian, having made safety a priority throughout the entire hike, showed us how to walk down sideways to avoid slipping. And while we didn't see a jaguar, the surrounding beauty and peacefulness of the jungle made the hike well worth it!
If you'd like to experience hiking the Jaguar Trail or another hike with Active Hiking with Versa Premium, contact them here.
Written by: Stacey Elkins
Photos by: Camilla Fuchs Photography