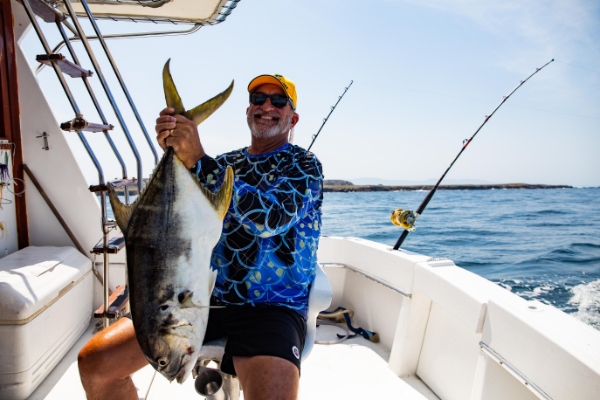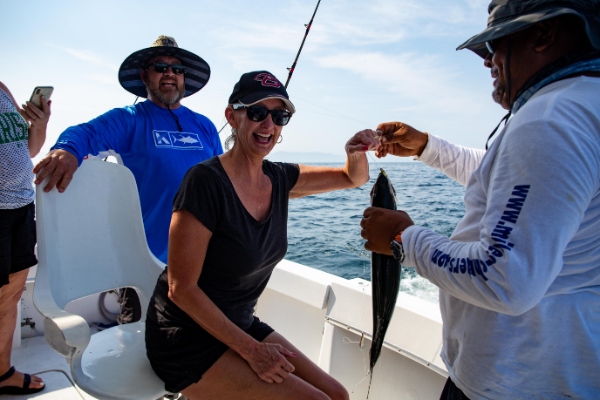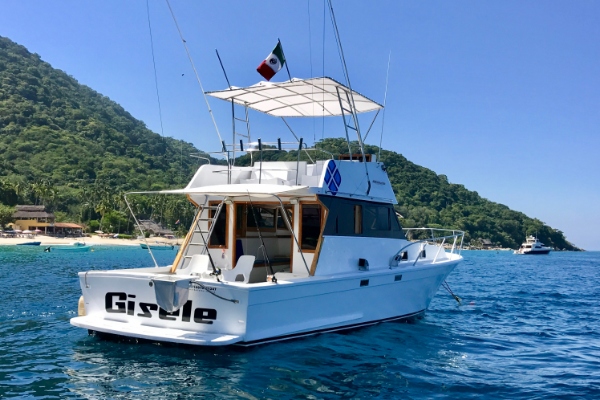 If you're looking to enjoy a day at sea fishing, snorkeling, or adventuring and exploring the sights in the Banderas Bay, Mike's Charters & Tours is the perfect option for you! With a vast array of boats and tours to choose from, there is something for everyone to enjoy! Mike tells me more about the history of Mike's Charters, & the various exciting, fun tours/excursions that are just 45 minutes away from Sayulita in Puerto Vallarta.
First can you please tell readers a bit of the history behind Mike's Charters & Tours?
The main goal of the company has always been to offer professional services on sport fishing activities in Bahía de Banderas, as well as public and private touristic services for our guests to enjoy sailing on the seas of one of the most amazing bays in the world. Our fleet started with only four sport fishing boats, and as of today, we own twelve ships-- eight sport fishing boats, three catamarans with a maximum capacity for 80, 150, or 200 passengers each, one 58" Hatteras Classic Yacht called "Acalli" and, in another destination, a ferry to provide transportation to 250 passengers called "Playa Del Carmen". Our company also runs a private beach club located at the south side of Banderas Bay by the beach of "Las Animas" that provides service to guests traveling on our fleet, as well as to people visiting by their own on this small paradise accessible only by sea.
What are some of the different fishing tours that you offer at Mike's Charters & Tours?
Our tours offer experiences to fit different skills, preferences or likes, and types of fishers coming to our destination. From four hours rides to overnight fishing trips, our experienced staff will lead our guests into the adventure and the excitement of fishing with all different types of fish, such as Bonitas, Amberjacks, Sailfish, Swordfish, and even Mahi Mahi.
For those fishermen who like to share and make new friends, our company offers the "Fishing Party Tour". With this our guests will share the cost of the service with other fishermen, and receive the opportunity and experience to have eight hours of fun and adventure while meeting and making friends with other great people with the same passion.
If guests were to book a tour, what can they expect? For example, how long does a typical tour last, and what exactly is included in the tour?
We have a wide range and variety of tours due to our numerous types of boats in our fleet. Some tours are shorter day trips around four hours, or can last up to 14 hours, and others are overnight trips that can last up to 48 hours off shore. The longer trips with overnight hours include beds/comfortable accommodations aboard for the guests, air-conditioning, showers, and a kitchen. We have an official permit to access Islas Marietas National Park from Tuesday to Sunday, and provide exclusive tours to this amazing site. Furthemore, we have in-shore as well as off-shore fishing excursions, as well as snorkeling tours. For various tours we also offer breakfast onboard, as well as an open bar and lunch buffet. For other tours we also provide snorkeling equipment, kayaks, paddle boards, and snacks for our guests. We really have something for everyone's tastes or desires! You can also arrange a boat / tour for your special private event with friends and family.
Is there anything else you'd like readers to know?
At Mike's Charters & Tours we believe in providing the best possible service to our guests, and in making magical moments that last forever in our guests's minds. Come and create these magical memories with us!
*Written by: Aanya Sheikh-Taheri