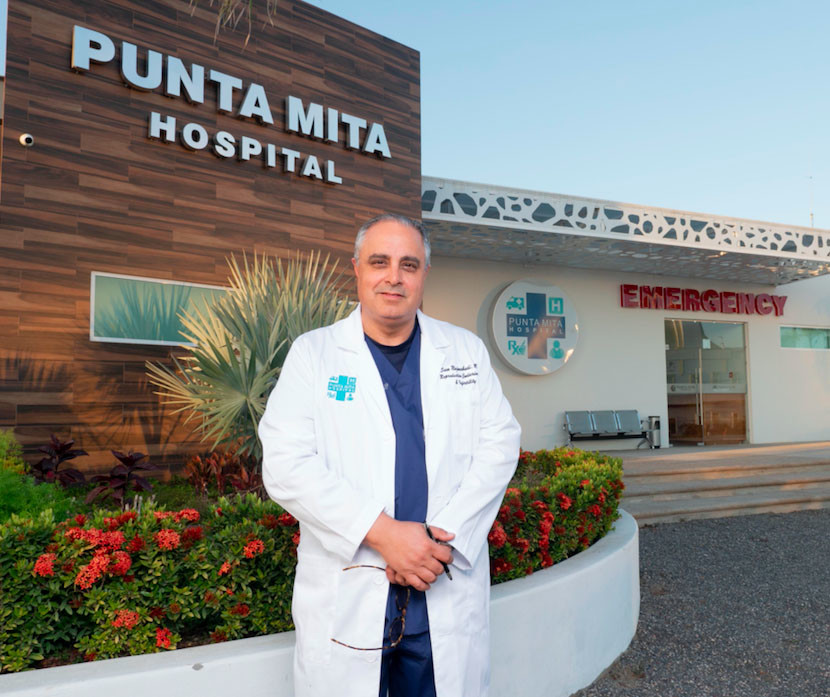 Emerging from the visionary experience of three Californian doctors, the Punta Mita Hospital is now a fact. State of the art equipment and top notch education affiliates, combined with compassion makes that the quality of health care will drastically increase in Punta Mita and surrounding areas. Today we speak with Punta Mita's co-founder Dr. Sam Najmabadi about the hospital's vision, goals, and health care standards.
What is the vision of the Punta Mita Hospital when founded, and now?
Punta Mita Hospital has a clear goal, which is to provide knowledgeable and compassionate health care to the people, whether you are a visitor or local. We want to make sure our patient's health is completely recovered and does not require any further assistance. We strive to provide quality medical health care, day and night.
We want to ensure that Punta Mita Hospital has unequaled, best-in-class life-saving equipment and the  finest emergency response team on the Pacific Coast. Apart from the ability to save your life (and the lives of your loved ones) the Punta Mita hospital will also benefit to tourism and property values in the area.
What has been the biggest challenge in starting and running a healthcare company like the Punta Mita hospital?
The biggest challenge has been to inform the people of our services and fees. Many people assume that our fees may be too high for them. However, our goal is to provide quality healthcare for everyone. For those who can't afford our services we have set up a socioeconomic program they can apply to. At Punta Mita hospital we strive to give back to, and support the local community. For more information about our socioeconomic program, please visit the Punta Mita hospital or contact us through our Sayulita Life page.
Does the Punta Mita Hospital provided health care meet American standards?
Yes, at Punta Mita Hospital we have an excellent staff of exclusive doctors that are both certified in ACLS (Advanced Cardiovascular Life Support) and ATLS (Advanced Trauma Life Support) certification from the American Heart Association. Our paramedics are highly skilled, ready to help, and our nurses are trained to immediately assess your condition and committed to providing the most compassionate care. Also, with 2 operating rooms and comfortable hospital beds we are able to provide the best medical care to patients that require a faster answer for their surgeries and treatments, whether it concerns a medical or aesthetic procedure. Punta Mita Hospital, meets both American standards and Mexican norms, promoting wellness in a positive and caring environment.
Is Punta Mita Hospital staff bilingual?
Yes, they certainly are. We believe that living and working in the area you must be able to speak English and Spanish fluently. Otherwise, as qualified physicians, we couldn't provide the high quality service we strive to offer.
For people who prefer medical care in the comfort of their own home, do you also offer house calls and home consultations?
Yes, we certainly do. Even if we are just twenty minutes by car from Sayulita, when a patient isn't able to leave home or simply prefers the comfort of their own home to receive medical care in, Punta Mita Hospital offers a convenient service that ensures high-quality medical house calls and consultations right to your doorstep. For us, it doesn't matter whether it's day or night, patients will receive the best attention with a flat rate.
Apart from regular healthcare services, Punta Mita Hospital also has an excellent fertility clinic. Is this the first, high quality fertility clinic in the area?
We are not the first fertility clinic in the area, but we are one of three centers in all Mexico that works with  Vitrolife Embryoscope Technology. This technology is the latest and best technology for embryo growth. I'm a Board Certified OB/GYN & Reproductive & Fertility myself, and I own two successful Fertility Centers in California. When we first thought about the wonderful project of Punta Mita Hospital, it was obvious to me and my colleagues that it would have to include a fertility clinic with the same high technology treatments and procedures along with an exclusive IVF laboratory on-site, just as I have in the US Clinics. The only difference being that in the Punta Mita hospital we work with attractively lower fees. Also, the clinic works with an amazing specialist, Dr. Rivas, and an amazing staff that includes an embryologist.
Plastic surgery is in the lift, so to speak. What advice would you give prospective clients searching for a good clinic?
There are many great plastic surgeons in the area. However, in Punta Mita Hospital we work with the best qualified ones that are known for the best results with least complications. I would advise to not only compare prices, but also qualifications and results. At Punta Mita hospital we offer both reasonable fees and best qualified surgeons.
Written by Inge Poell