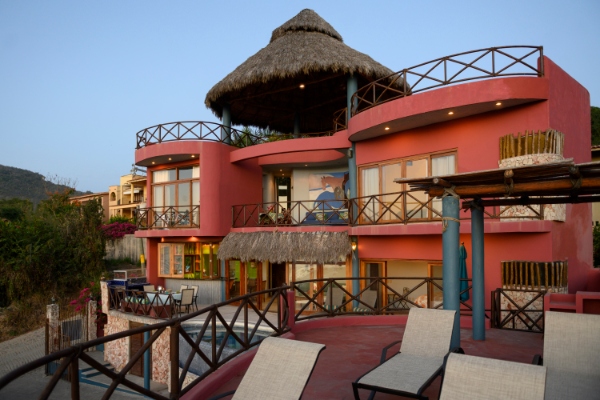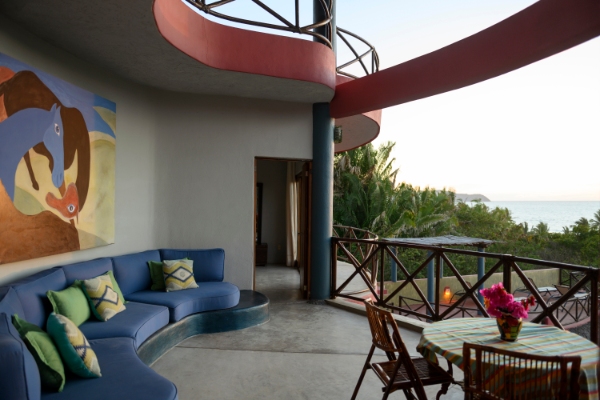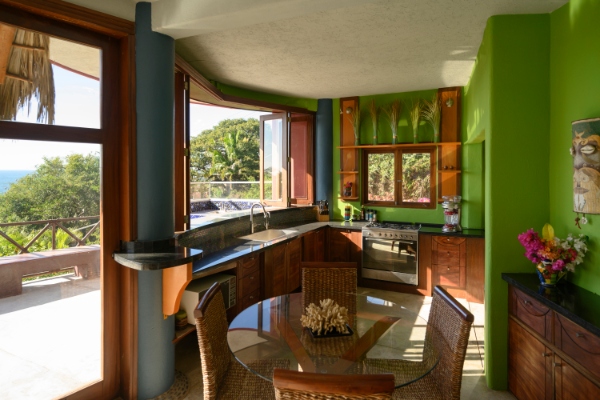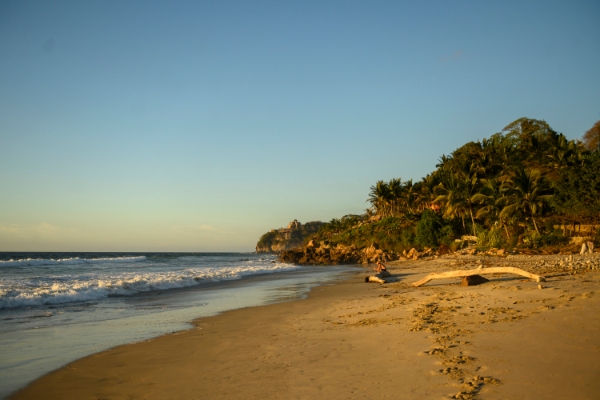 Tucked away on the private beaches of Litibu, about 15 minutes away from Sayulita, sits Casa Litibu-- the perfect escape from reality in your own private oasis! If you're feeling ready for a vacation to tropical paradise, or if you want to wake up to the sounds of the ocean in a spacious, private, and exclusive atmosphere, then Sweet Suite Retreat's Casa Litibu is the spot for you! The owner, Cory, talks more about her home and why it is the best place for a getaway / escape from the realities of the world right now.
Hi Cory. First, can you please tell readers a bit about yourself? What brought you to the Sayulita area and what do you love the most about it?
I am originally from Saskatchewan, Canada. I raised my two children in Alberta, exploring the many spectacular landscapes and diversity of the province. I love to create new experiences and adventures with my family and friends. I have always loved the outdoors and the breathtaking beauty and adventures offered by the ocean and mountains. It was a birthday party that brought me to the Riviera Nayarit area and started me on this new adventure.
While visiting Puerto Vallarta, I fell in love with the culture of Riviera Nayarit, and especially the mountainous areas near Sayulita. I spent most of that winter in Sayulita exploring the town and surrounding areas. I had been looking to purchase a vacation property for several years, but it was the magic of Sayulita that made me feel as if I was home. During my stay here, I was captivated by the beauty of this region and mesmerized by the majestic beauty of the Pacific Ocean. It was the sound of the waves, the feel of the breeze, the smell of the salt-water breeze, and majesty of the Mountains at Playa Litibu that allowed me to slow down and rejuvenate my spirit. I feel privileged to have a front-row seat to this spectacular scene with all of its rich history, natural beauty, and exotic wildlife.
I fell in love with Litibu Beach, and chose it as the location for my first Sweet Suite Retreat. As the new owner of Casa Litibu, I look forward to sharing the many amazing adventures, spectacular beauty, and the local authenticity that the Riviera Nayarit offers. Litibu Beach allows me to immerse myself in the local culture, be close to outdoor adventures and other amazing virgin beaches in the area.
Can you tell readers a bit more about your vacation rental, Sweet Suite Retreats at Casa Litibu ?
Our doors have been open to guests since December of 2020. We took some time before opening to complete renovations and prepare for guests. Our main house has 3 large suites (2 king beds & 1 queen), with attached private en-suites complete with walk-in closets and open-air showers. Each suite has a sliding glass wall to showcase the amazing views of the Pacific Ocean, allowing our guests to enjoy the ocean from their rooms. Our rooftop patio provides a 360 degree view of the bay of Litibu and the lush rainforest of the Sierra Madre Mountains. Guests are able to take in a view of the ocean and the migrating whales from every room in the house. We also boast an outdoor kitchen, infinity pool, and Jacuzzi on our main deck, plus a lush garden for our guests's enjoyment. Our gourmet kitchen is bright and airy, allowing you to enjoy the views and ocean air as you prepare a meal to be served on the patio as the sun sets. Two stunning living areas are the perfect location to host an event, or just relax and take in the sights and sounds of the area. The rooftop deck is an excellent space to enjoy an in-house massage, meditation session, or yoga class. Our property is set up to host groups for retreats or special events in your own private oasis. It is the perfect secluded escape!
When is Casa Litibu available for booking again, and what are you doing to ensure the health and safety of your guests during varying degrees of COVD-19 around the world?
We are currently available for bookings, as the property is the perfect place to escape isolation and enjoy a vacation without having to interact with people outside your immediate circle. We are only renting the property to groups during this time to help prevent any possible exposure. We have taken extra precautions for our guests. All surfaces in the property have been treated with a product called Germguard. This hospital grade disinfectant is non-toxic, 100% biodegradable, and is approved by the EPA and Health Canada. In addition, our housekeeper will further protect you by wearing gloves and masks while they perform increased cleaning services before and during your stay, such as wiping down all surfaces, including door handles and light switches. Even if the beaches close down in the Nayarit area, our property has 900 sq meters of garden and large, spacious sundecks, which allow our guests to enjoy the fabulous weather and feel the ocean breeze from the comforts of the pool deck. We also offer 5 km of uncrowded and private beach for our guests's enjoyment. Additionally, we offer a variety of in-house services such as a private chef if guests want to enjoy an exquisite meal without having to venture out to a restaurant or busy center. We can also bring massages and yoga classes to our property for our guests to relish in.
How do you want guests to feel when they stay at Casa Litibu?
Casa Litibu has been thoughtfully designed to welcome the natural environment, and create a calm feeling of luxury and exclusivity within a beach community. The very light and airy atmosphere, together with views of the ocean, mountains, and beautiful gardens, will wash away all the stress and anxiety from your daily life. From when you first arrive, until the time you leave, you will have a sense of fulfillment here. My intent for Casa Litibu is to feature all the comforts of home, while offering my guests an exclusive and fulfilled experience. This cozy retreat promises days of pleasure, nights of comfort, and the feeling of being at home. Here you can have boundless experiences as you relax your mind, body and soul. You will find a breath of fresh air while gazing at the bright stars over the Pacific Ocean, or wake up to the pelicans skimming the watery horizon. My guests will absolutely love a refreshing dip in the infinity pool that looks over the beach from the sundeck. This home is all about relaxation, luxurious experiences, and absolute comfort. My home will be your enchanting oasis that has all the amenities/facilities for an amazing stay for you and your family or guests!
What do you think are the advantages of staying in Litibu, versus somewhere in the heart of Sayulita?
Sayulita and Litibu are both beautiful coastal regions, however anyone can attest that Litibu is the more private and exclusive of the two. Litibu is off the beaten path, and offers a nice break from resort-style vacationing. Litibu is a tranquil beachfront neighborhood that is surrounded by beautiful mountains, and you instantly feel an alignment with nature while here. Any direction you look while in Litibu is like finding your own personal paradise. With fewer tourists and less industry, Litibu naturally flows at a slower pace, and you will quickly find serenity with your environment. Litibu beach is more about relaxing and reconnecting with nature. Private experiences and unforgettable moments are easily found in this spectacular setting.
The beach directly in front of the property is one of the three surfing spots in the area. Our beach access is just a quick walk through our garden in front of the house. This path leads to an unpopulated beach, one of the most beautiful beaches in the Riviera Nayarit region, and yet we are still close enough to Sayulita and Punta de Mita for a day excursion, or to take in the night life. Casa Litibu is centrally located to allow you to explore all the riches of the Riviera Nayarit from one location.
Is there anything else you would like readers to know?
We offer an exclusive vacation experience by helping arrange limo service, in-house massages, salon services, personal chef service, & continental breakfast service, per your request. We will also help you arrange your luxury dream vacation, wedding, or celebration. We will provide you with all the extra amenities that will make your stay perfect, such as beach chairs, towels, blankets and umbrellas, coolers, beach bags, boogie boards, snorkelling gear, baby gates or playpens, life-jackets, beach toys, bicycles, etc. We can also arrange rentals for surfboards, mountain bikes, scuba-gear, etc., and have it at the house ready and waiting for you. Just let us know what you need!
For more information or to make your booking now, please visit Casa Litibu's Sayulita Life web page.
*Written by: Aanya Sheikh-Taheri