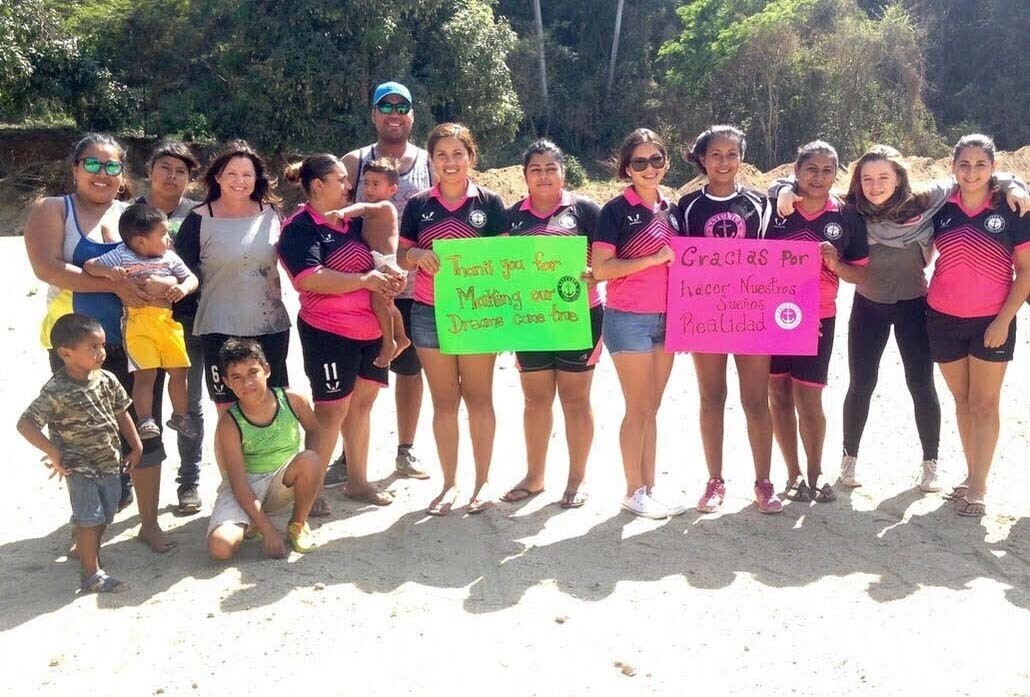 The Sayulita Women's Center is a place where women can come to meet, talk, play sports, take classes, cook, garden, and turn for help when they need it. Today, Kathy Nicoletti shares with us what inspired her and Cheri Hasburgh to co-found the Sayulita Women's Center, what hurdles still have to be taken, and how the community can help to make this project a success.
Kathy moved to Sayulita in 2012 after she accepted the position of director at Costa Verde International School. After serving as director for two years, she moved to Thailand where she taught for three years. Kathy returned to Sayulita in 2017 to help Cheri create the Women's Center. Her plan is to remain in Sayulita for many, many years.
Cheri is a wife and mother of two children. She discovered Sayulita in 1997 with her husband Patrick and frequently visited Sayulita after purchasing a house in town. When the family moved full time to Sayulita, she and Kathy met at Costa Verde International School. Currently, she is living in Encinitas, CA, and commutes between Sayulita and California.
''Cheri and I have been fortunate to have lived in a number of different places around the world and what has always struck us is how women, regardless of where they live, shoulder so much of the work required for daily living.''
Kathy, what would you say is the root of the hardships that women face in general, and more specifically, here, in the Sayulita area?
Most of the women we have known here in Sayulita and elsewhere work outside the home, bear the brunt of household tasks, and serve as the primary caretakers of their children and aging parents. And while women are charged with tending to the needs of their families, rarely are the needs of women considered. The Women's Center is being created to address this.
What are your dreams and goals for the center?
The center, as we imagine it, will be a sanctuary for women. A place where there are no men and no children. A place where women come to meet, talk, play sports, take classes, cook, garden, or turn for help when they need it. In short, a place where no one is asking a woman for anything. A place where she can simply laugh, learn, and relax. We also hope that the center will be a place where women can develop their ideas about how to grow an existing business or perhaps start one. What they will find at the center is a group of supportive women willing to provide input and resources (material and otherwise) to support those ideas.
How does a women's center differ from a women's shelter?
Normally, the term women's shelter is used to denote a refuge for women escaping domestic violence. This is not the plan for this center.
The project includes a women's soccer field, plus a women's center. How are these two projects tied together?
These two projects are tied together as both are spaces that will be utilized by women in ways that support what women need and want. About seven years ago, a group of women started the first women's futbol team in Sayulita. Since the team's inception, the women had difficulty securing fields on which to play in town. A few years ago, a local woman offered the team use of jungle land she owned if members were willing and able to build a field on the property. The women accepted the challenge, and the field is now about 70% completed. Adjacent to the field is a house owned by the same local woman. This house will be used as the women's center.
What hurdles are there still to overcome before the project can be fully operative and of service?
For the past several months, we have been involved in renovating the building that will house the center. That work is almost complete. The next stage will be to furnish the center and landscape the property surrounding it. Our dream is to create a beautiful, inviting, feminine space (both inside and outside the center) worthy of the women who will go there.
We expect that the center will be fully operational by late fall. Our final hurdles are financial. We need to raise enough money to complete the futbol field and to purchase the remaining items we need for the center.
How can we, the community of Sayulita, help make this amazing and much needed project a success?
First and foremost, we would like to invite all the women in Sayulita and the surrounding communities to contact us and become involved in creating this center. While Cheri and I are spearheading its creation, we do not consider this center to be "ours". We want the center to belong to the women of this community and the activities conducted within it to address the needs and desires of these women. In addition to becoming involved with the center, financial contributions are most welcome. (PayPal account information is below).
Where can we find the Sayulita Women Center?
The center and the futbol field are located on the federal highway just past the Pemex (as you exit Sayulita) headed toward Vallarta. The house and field are on the right. To date, we have had three fundraisers: a fiesta on the plaza with food and music, a women's night out with Thai food and games, and the last event on April 14, a bazaar at Cheri's house where we sold new and used clothing. The first picture above shows the women (except for Nancy, Dalia and Leo) who helped with the fundraisers. Donations can still be made to our PayPal account: sayulitasoccerdonations@gmail.com.
Written By: Inge Poell